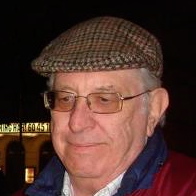 Time to introduce you to the humans behind the Naraena Kennels and Cattery, Michael & Wendy Sharman. We were both raised in Surrey in the South of England and our Mothers were best friends at school! We were married in 1968 and my black & white moggie called Lucky came to live with us. Our first dog, a Beagle called Mandy, arrived in 1971 closely followed in January 1973 by our first Norwegian Elkhound called Kym (Kym of the Hollow) who was born on 10th October 1972. We didn't realise that this would lead to world-wide friendships and many happy years of enjoyment with this wonderful breed
The kennel and cattery name "Naraena" was first registered in England in 1980 with the UK Kennel Club and the Governing Council of the Cat Fancy. The first litter of Norwegian Elkhounds bearing this affix was whelped in February1981 from our foundation bitch, Brattlid Elena of Naraena and our male, Laekness Statlig Stej av Naraena who was born in quarantine. His dam was imported in whelp from Sweden by the late Isobel Clarkson (Laekness) and her sister the late Anne Charleston. The first Burmese kittens from our cream foundation stud Ch. Anselig Anjin San and queen, Ch. Wayward Running Bear, were born around the same time.
Over the years, work commitments have influenced our breeding and showing activities which meant that Norwegian Elkhound litters have been bred infrequently over the years, rather when we wanted a new puppy for ourselves.
Whilst living in Sussex in the South of England, and following a chance meeting with the late Frank & Molly Rogers (Rogersome) and their dogs, we gradually became more involved with the then British Elkhound Club (now known as The Norwegian Elkhound Club of Great Britain). In 1980 Michael was elected to the position of Honorary Treasurer, a post he continues to fill today. Wendy proposed and produced twenty one editions of a Club Magazine which led to being elected to the Committee in 1984. She resigned from this position in 2007 due to her move to Sweden.
We are both licensed to Judge Norwegian Elkhounds at Championship Show level and award Certificates both in the UK and USA. Wendy judges Finnish Spitz and awaits an appointment to award Certificates. She has also passed her assessment and judges Swedish Vallhunds (Västgötaspets). Also, having studied and passed a course run by Västra Kennelklubben (a branch of the Swedish Kennel Club), F.C.I. is able to judge any breed without certificates.
In 1992 we moved from the South of England to a house near Leicester in the Midlands and lived there with our companions until 2007 when we purchased a house surrounded by forest with native birds and wild animals (including Elk of course) in the West of Sweden. We have visited Scandinavia many times since our first visit in 1987 in order to quench our thirst for more knowledge about Norwegian Elkhounds from their original home-land. This has now been extended to the home-land of the Västgötaspets (Swedish Vallhund) and, indeed, the actual area of Sweden called Västra Götaland.
Towards the end of 2011 the dogs and cats upped-sticks and moved with us to The Netherlands where they settled really quickly and are enjoying life including the show scene.
Our dogs and cats are companions first and form the core of our family. Breeding will continue to be, as it has been in the past, selective and for the enrichment of the breed.